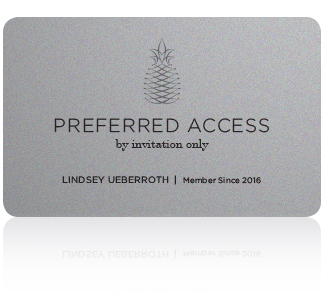 Frequently Asked Questions
All the details about the exclusive Preferred Access card
Who has access to the owner access card?
It is an invite-only program for hotel owners and GMs within the Preferred Hotels & Resorts
collection.
What are the benefits of the card?
Benefits vary by hotels yet frequently include room upgrades, exclusive owner's pricing, added
in-room amenities, access to club floors, and assistance in arranging introductions and
meetings with key on-property leadership.
How do I utilize the perks and benefits of the program?
There are two methods available to engage program benefits — you can call our VIP line directly at
the numbers listed on your card or through the "contact us" section of the website (based on
region). Additionally, you can email the VIP desk team at preferredaccess@preferredhotels.com. The
team will follw up on all requests within a business day.
Can I book directly on the Preferred Hotels & Resorts website or directly at the property
and still receive benefits?
Benefits should be booked through the VIP line in order to receive the most benefits, added
values, and — specifically — VIP pricing. If you do book directly through the property or
PreferredHotels.com, please contact our VIP line so we can ensure you receive the best prices
and benefits.
May the card be used to book reservations for other family members or friends?
The card was created with the intention of offering benefits solely to the card owner and their
immediate family (i.e., spouse and kids). There may be exceptions with individual hotels and
resorts on a case by case basis for which our team will attempt to accommodate.
Does my card expire?
The card will remain live and active, as long as your property is a member of Preferred Hotels &
Resorts. If at any time you depart the ownership group or hotel and cease continuation with
Preferred Hotels & Resorts, your membership will be deactivated.