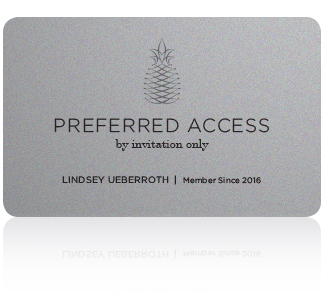 Welcome to the Preferred Access Program
Exclusively for Preferred Hotels & Resorts owners and general managers
You have been invited to receive the benefits of the Preferred Access card, exclusively available
to owners and general managers of Preferred Hotels & Resorts properties.
To thank you for your partnership and support, we have created the Preferred Access card
supported by a specialized VIP desk team focused on obtaining exclusive perks, unpublished
rates, and key added benefits every time you travel to one of the more than 650 Preferred
Hotels & Resorts worldwide.
Please do take advantage of these exclusive benefits and services as you explore the globe.
Warm regards,

Lindsey Ueberroth
President & CEO, Preferred Hotels & Resorts